Microsoft Dynamics 365 – the complete business platform
Simplify and unify your operations, finance, sales and customer service to optimize between all part of your business. The Microsoft Dynamics 365 platform offers the flexibility to run modular applications easily. Traditional independent applications like CRM, ERP, Field Service or Marketing are combined within Dynamics 365. The fact of having an integrated system results in accuracy, completeness and dependability of data. This common data set is the fundament of the future success and needs to be controlled. The Microsoft business platform contains innovative technologies such as artificial intelligence (AI), IoT or big data and brings them to a level they can be used in the day-to-day operation.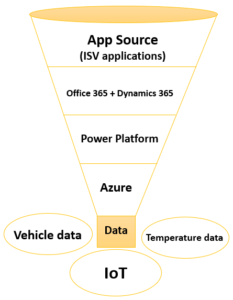 Microsoft Power-Plattform
Das wissen wir alle: "Daten sind das neue Öl". Aber mit dem Sammeln von Daten ist es nicht getan. Die große Herausforderung besteht darin, aus Daten geschäftskritische Informationen zu erstellen. Die Microsoft Power Plattform macht dies mit geringen Schlüsselentwicklungen möglich. Verwandeln Sie großartige Ideen in wirkungsvolle Lösungen.
Power BI: Treffen Sie zuverlässige und fundierte Geschäftsentscheidungen, indem Sie allen Mitarbeitern aussagekräftige, datengestützte Insights zur Verfügung stellen.
Power Apps: Verwandeln Sie Ideen in Unternehmenslösungen, indem Sie es jedem ermöglichen, individuelle Anwendungen zu entwickeln, die geschäftliche Herausforderungen lösen.
Power Automate: Steigern Sie die Unternehmensproduktivität. Erreichen Sie mehr, indem Sie Ihren Mitarbeitern die Möglichkeit geben, organisatorische Prozesse zu automatisieren.
Power Virtual Agents: Entwickeln Sie ganz einfach Chatbots, um mit Ihren Kunden und Mitarbeitern zu chatten – ohne Programmieraufwand.
Common Data Service: Führen Sie Ihre Daten einfacher zusammen, und erstellen Sie im Handumdrehen leistungsstarke Apps – mit Common Data Service, einer kompatiblen und skalierbaren Datendienst- und App-Plattform, die in Power Apps integriert ist.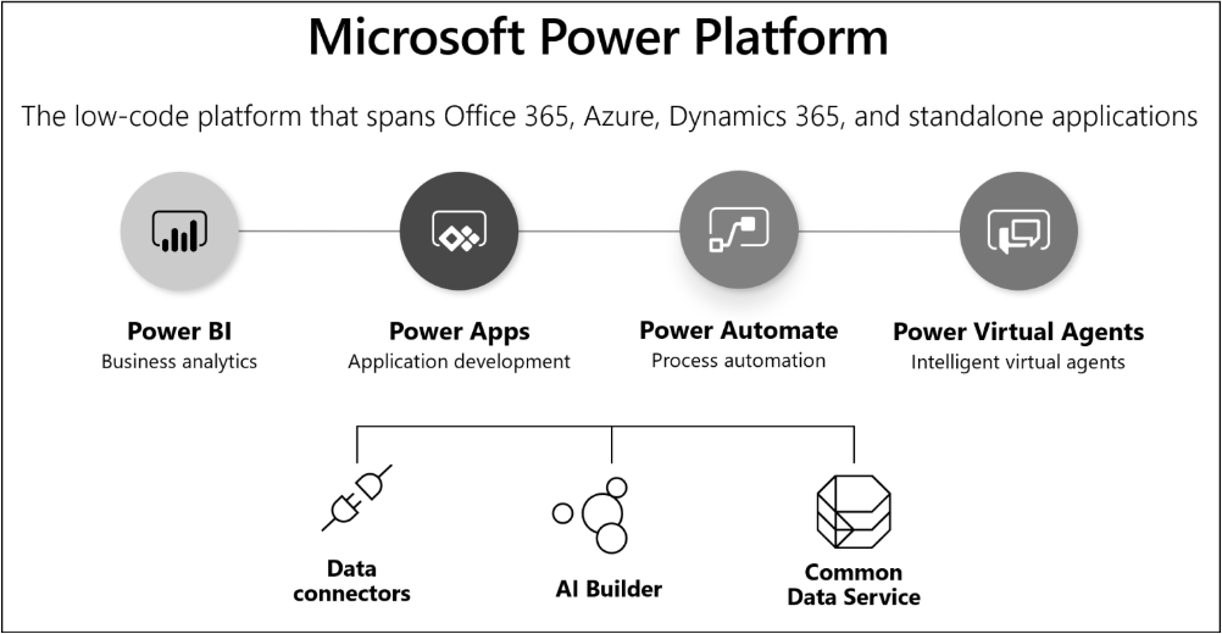 Source: https://docs.microsoft.com/en-us/powerapps/maker/common-data-service/data-platform-intro